Mexican tacos with vegetables and salsa are fresh and crunchy, on top of that they can be prepared in no time. These tacos contain a filling of fresh vegetables, crisp salad and a spicy salsa sauce. They can be thrown together in less than 20 minutes. Making tacos yourself can be so easy!
These nutrient-filled tacos are filling, give you an extra boost of energy and taste absolutely yummy. The kidney beans provide a large portion of protein and fiber. This has to benefits: Firstly they keep us full for a long time and regulate our blood sugar levels. Secondly they prevent so-called energy lows and support our digestion.
These Mexican Tacos are a Real Beauty Food
These delicious Mexican tacos with vegetables and salsa not only taste great. They are also a true Latin American beauty food. Kidney beans contain zinc for beautiful skin and hair. Avocado contains plenty of vitamin E, which protects our cells from free radicals that lead to premature aging. And the red pointed paprika protects our eyesight and skin with considerable amounts of vitamin A.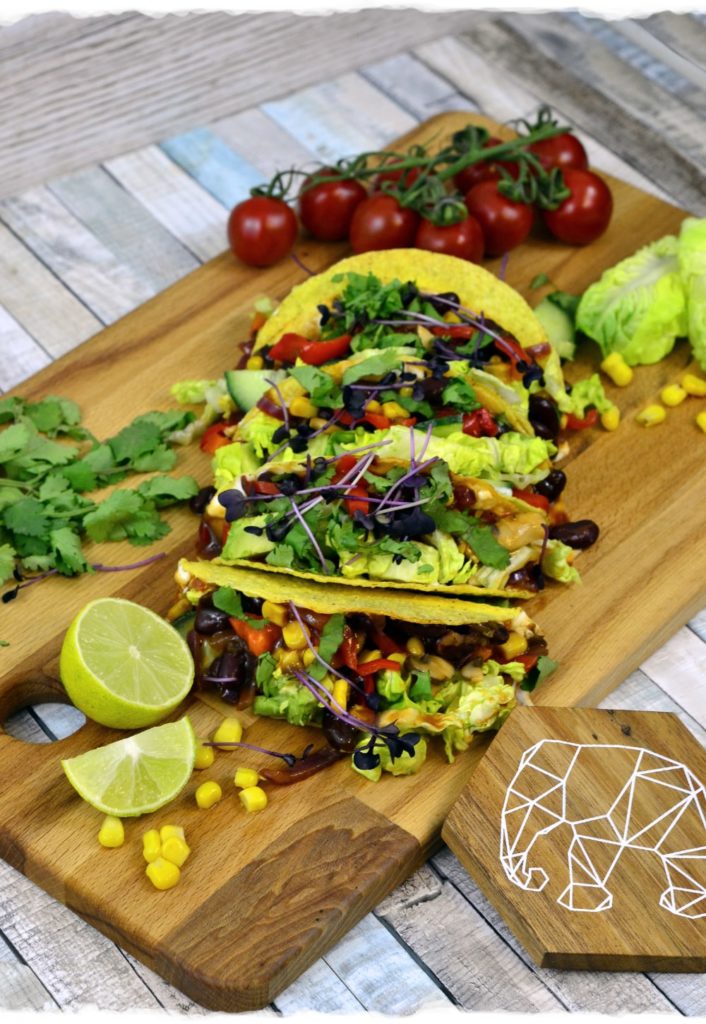 I have decided to prepare the Mexican tacos with a filling of fresh vegetables with corn, kidney beans, chopped peppers, mushrooms, tomatoes and onions in a spicy salsa sauce and crisp salad with cucumber and avocado. But that's just a suggestion. Of course you can adjust the filling to your personal preferences.
Tacos can be Filled Depending on your Preference
Tacos are so wonderfully varied. With the huge selection of fresh vegetables nowadays, the possibilities for filling are virtually unlimited. You don't like salsa? Then just use guacamole. Instead of coriander as a topping you can also use parsley. If you like it heartier, add some vegan chicken. Just be creative, everything is possible.
Mexican tacos are also great for a dinner party with friends. Because together, cooking is even more fun. Fill the crunchy tacos with the tastiest ingredients. No matter what you fill your tacos, it is guaranteed to be a feast.
Mexican Tacos Filled with Vegetables and Salsa
Crunchy taco shells filled with fresh vegetables, crispy salad and a spicy tomato salsa
Drucken
Pinterest
Bewerten
Ingredients
12

taco shells

1

onion

1

red pointed pepper

100

g

tomatoes

100

g

mushrooms

1

avocado

½

cucumber

100

g

lettuce

e.g. cos or iceberg

1/2

can

corn

½

can

kidney beans

200

ml

salsa sauce

200

ml

vegan crème fraîche

alternatively vegan quark or yoghurt

1/2

bunch

cilantro

as a topping

1

tbsp

lime juice

as a topping (optional)

2

tbsp

fresh sprouts

as a topping (optional)
Instructions
Gather all ingredients for the tacos.

Finely dice onion, pepper, tomatoes and mushrooms. 

Sauté vegetables in a pan in a little oil for about 5-10 minutes. Add corn and kidney beans. Add salsa sauce to the vegetables. Stir and bring to a boil. 

In the meantime remove the taco shells from the packaging. Place separately in a casserole dish. Bake in the oven according to the package instructions for approx. 5 minutes.

Cut avocado, cucumber and lettuce into small cubes and mix in a bowl.

When the taco shells are done, remove them from the oven.

Spread the insides of the shells with vegan crème fraîche. Then fill the salad and the vegetable-salsa mixture into the tacos. 

Sprinkle with fresh cilantro and sprouts. Drizzle some lime juice over the tacos. Serve and enjoy.
Nutritions
Serving:
3
Tacos
|
Calories:
548
kcal
(27%)
|
Carbohydrates:
73
g
(24%)
|
Protein:
13
g
(26%)
|
Fat:
24
g
(37%)
|
Saturated Fat:
6
g
(38%)
|
Cholesterol:
0
mg
|
Sodium:
703
mg
(31%)
|
Potassium:
1092
mg
(31%)
|
Fiber:
13
g
(54%)
|
Sugar:
13
g
(14%)
|
Vitamin A:
1770
IU
(35%)
|
Vitamin C:
56.9
mg
(69%)
|
Calcium:
86
mg
(9%)
|
Iron:
3.4
mg
(19%)
If you liked this recipe for Mexican Tacos you may also like one of these other Mexican recipes:
You will find more delicious recipes from all over the world in our recipe section.