Mexican guacamole is one of the tastiest dips at all and is a hit on every buffet. It not only goes well with tortilla chips, burritos, tacos and other Mexican classics, but also simply as a spread on toasted bread. As a refreshing dip or as a sauce for grilled food, guacamole is the perfect companion for any occasion. And of course it tastes best homemade. We'll tell you our favourite two 5-minute recipes for the perfect guacamole. It's so easy, even absolute beginners can do it!
Guacamole is a Avocado Dip with a History
Guacamole is an avocado dip from Mexican cuisine. The creamy fruit originally comes from South America and was already very popular with the Aztecs. The history of guacamole dates back to the 14th century. The word guacamole comes from the language Nahuatl, which was spoken in pre-Spanish times in the valley of Mexico by Aztecs and related Nahua peoples. The Nahuatl word ahuacamolli means "avocado sauce". The Spanish conquerors brought the fruit to Europe. In recent years the fruit has experienced a real hype and can therefore be found in every supermarket.
Recipe No. 1 is made with a blender
Our classic Mexican guacamole consists of only a few and healthy ingredients: avocado, small sweet cherry tomatoes, limes, garlic, salt and pepper.  These ingredients are simply thrown together in a blender and you have a super creamy tasty guacamole.
Recipe No. 2 is finely diced
The second variety of Mexican guacamole also consists of avocado, cherry tomatoes and limes. Red onion and fresh cilantro are also used here. Furthermore, this variant of guacamole is not blended. Instead, all ingredients are finely diced. The avocado is crushed with a fork and mixed with the remaining ingredients. The cilantro in particular gives this guacamole variant an exotic taste.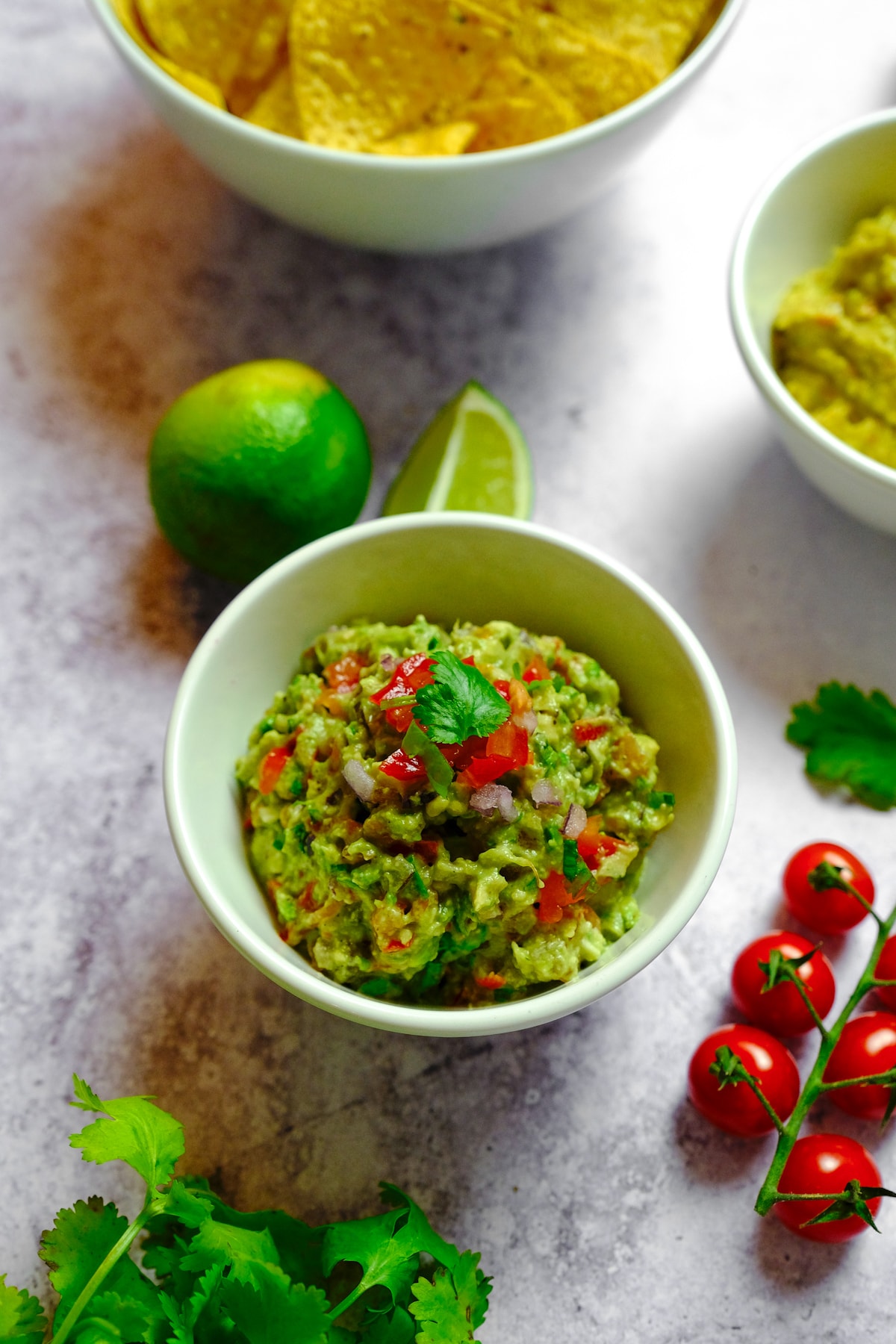 To make the guacamole an absolute party hit, make sure you use fresh, high-quality ingredients, preferably using only ripe avocados for the guacamole. They taste much more aromatic, are easier to crush and make the dip nice and creamy. You should use fresh lime juice from squezed limes, then it tastes best.
The Perfect Ripe Avocado for your Guacamole
A ripe avocado can be recognized by applying a light pressure with the thumb. If it gives in a little bit the avocado should be ripe. Some varieties of avocado turn from green to purple-black when they ripen. However, the avocado should not be to ripe or mushy. Nothing is more annoying than finding out at home that the avocado is already rotting from the inside. As a test you can remove the small stem of the avocado. If the flesh underneath is green, the avocado is still good. If it is already brown or even mouldy, the fruit has already passed its sell-by date.
The avocados you can find in the supermarkets are often still very hard and unripe. They usually need a few more days to ripen. This process can be accelerated by wrapping the avocados in several layers of newspaper. Avocados release ethylene gas, which, if it cannot escape, accelerates the ripening process. The fruit then ripens and softens within 2-3 days. You can speed up this process again by placing a banana or an apple next to the avocado. These fruits release large amounts of ethylene gas and allow the avocados to ripen even faster.
Power Food for your Brain and Nerves
Despite their high fat content, avocados are very healthy. They contain many monounsaturated fatty acids, many vitamins and numerous trace elements and minerals. In addition, they can help to lose weight and lower the cholesterol level. And to top it all off, these little power fruits also taste heavenly delicious.
Due to the polyphenol oxidase contained in avocados, guacamole quickly turns brown when it comes into contact with oxygen. This oxidation process can be slowed down by adding lemon or lime juice, but it is most effective to store the guacamole in an airtight container or covered with cling film. The Guacamole can also be kept in the refrigerator for 2-3 days if sealed airtight.
Guacamole Can Be Varied Easily
Homemade Mexican guacamole not only tastes delicious, but can also be varied quite easily, as you can see from our two recipes. If you don't like tomatoes, you can simply leave them out. If you like it spicy, you can round off your guacamole with chilli.
And now have fun trying it out!
Mexican Guacamole in two different ways
Guacamole is an avocado dip from the Mexican kitchen and is one of the most popular dips of all
Drucken
Pinterest
Bewerten
Ingredients
Recipe 1:
1

avocado

ripe

1

clove

garlic

4

small cherry tomatoes

or date tomatoes, alternatively 1 large tomato

2

tbsp

soy yoghurt

natural and unsweetened

1/4

lime

salt

pepper
Recipe 2:
1

avocado

ripe

4

small cherry tomatoes

or date tomatoes, alternatively 1 large tomato

½

red onion

3

stems

fresh cilantro

1

clove

garlic

1/2

lime

salt

pepper
Instructions
Recipe 1:
Cut the avocado in half and remove the core (tip: lightly beat the core with a knife and simply twist the core out). Use a spoon to scrape the flesh from the skin.

Peel the garlic and put it in a mixer with the avocado flesh, the tomatoes and the soy yoghurt.

Season with salt, pepper and freshly squeezed lime juice.
Recipe 2:
Cut the avocado in half and remove the core. Use a spoon to scrape the flesh out of the skin.

Chop the cherry tomatoes, garlic, onion and fresh corander very finely.

Put the avocado flesh in a bowl. Squeeze the lime and pour the juice over the avocado. Finely mash the avocado with a fork.

Mix in the remaining ingredients and season to taste with salt and pepper.
Notes
The lime juice prevents the cream from turning brown. If you do not want to eat the guacamole directly, you should put it in an airtight container or cover it with foil. If you want to experiment further, you can also add parsley or onion to the guacamole.
Nutritions
Calories:
367
kcal
(18%)
|
Carbohydrates:
28
g
(9%)
|
Protein:
6
g
(12%)
|
Fat:
30
g
(46%)
|
Saturated Fat:
4
g
(25%)
|
Sodium:
26
mg
(1%)
|
Potassium:
1163
mg
(33%)
|
Fiber:
15
g
(63%)
|
Sugar:
5
g
(6%)
|
Vitamin A:
727
IU
(15%)
|
Vitamin C:
48
mg
(58%)
|
Calcium:
55
mg
(6%)
|
Iron:
2
mg
(11%)
If you liked this recipe for Mexican guacamole, you might also like one of these other Mexican recipes:
If you liked this recipe, you can use this picture to create a pin for Pinterest. Just select the picture and click on the Pinterest button in the upper left corner. This way you can save the recipe for later use.
You will find more delicious recipes from all over the world in our recipe section.